LED Message Signs for Indoor/Outdoor Advertising
---
LED Message Signs - Illuminated Full Color Business Signage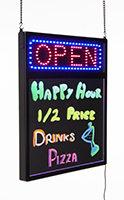 What type of LED message signs are available for outdoor advertising? These lighted boards are one of the most effective ways to attract customer attention from the street. Buy LED message signs, like electronic displays with stock messages, present a full color exhibit that no one can miss from the sidewalk. The bright lights glow nicely day or night through glass business windows and doors. These LED message signs, also known as electronic displays for advertising, are full-color illuminated boards with a flashing digital announcement. Tons of text options are available, from simple one-word notices like "Open" or "Closed," to more descriptive announcements about sales and services, like "We Deliver," and "Lotto." Need more wisdom on how LED message signs can work to bring new customers into your store? Read on.
What are the benefits of using electronic displays for business?
LED message signs are economical because they don't cost as much to run as conventional fluorescent & neon lighting, resulting in a huge savings over the lifespan of the unit.
This signage lasts longer because of light-emitting diodes that do not have the fragile filaments of standard light bulbs that causes them to need frequent replacement.
These tri-color information signs with stock messages are kinder to the environment. They contain no harmful contaminants the way fluorescent lighting with mercury does, so the bulbs discussed here never require special disposal.
Years ago, LED lighting was not bright enough to use for signage, but today the light emitting diode provide a wide spectrum of brighter illumination (note this technology is used in traffic lights & dashboards!) that gets business advertising noticed.
These electronic displays that are quality sign supplies do more than attract attention to an exhibit or showroom. These indoor outdoor lighted posters run on LED technology that is more economical than conventional fluorescent and neon lighting. These signs with stock messages, also known as electronic displays, run for years without the retailer having to change bulbs. With electricity costs rising, it makes sense to choose message boards with this money-saving technology. Electronic displays for wall hanging come in red, white, and blue, and many other colors and configurations for drawing street traffic into a showroom, boutique, or eating/drinking establishment.
This indoor outdoor message sign system in oval and rectangular shapes in all different styles, use lighted drama to inform patrons about your store or wares. This wall advertising is effective, whether your announcement is "We're Open" or "Massive Sale!" Some units are a combination of illumination and markerboard so you can write about drinks or merchandise underneath. These colorful LED message boards display essential notices to passersby, from "ATM Inside" to "Wi-Fi Hotspot," that will entice them indoors. This illuminated signage is also service-specific, notifying passersby of tattoo parlors and nail centers. These full color light emitting diode signs also provide hotel vacancy and restaurant delivery information including phone numbers. Each of these digital displays is an ideal choice for businesses with stock messages to get out that will bring traffic in.
Visit this website for your illuminated sign-making equipment using this LED lighting technology, marker boards, and light boxes with black backgrounds on which neon markers just glow! Change taglines and announcements whenever the fancy strikes using easy-to-update full color signs. These display boards for business with stock messages are the most effective way to entice passersby into a shop. These indoor outdoor advertising sign systems grab attention day or night. Buy LED message boards for retail with a tricolor display for custom notices so people know where you are, and what you sell! The displays are lighted office poster frames that come in an array of sizes, including the popular 24" x 36" and attract maximum attention to your business with exciting lighted signage.