Sidewalk Signs and Sandwich Boards For Outdoor Use
---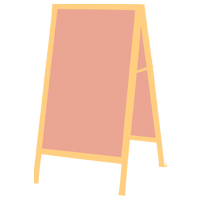 Whether you're located inside a mall or outdoors on the street, potential customers will be walking past your store constantly. Why not catch their attention with any one of these sidewalk signs? These sandwich boards are ideal for placing on a sidewalk or by the front door. Many of these A frame signs are easy to customize with the graphics of your choice. Need to create a custom message? These sidewalk signs, also called sandwich boards, come with changeable letter fronts or boards that use wet/dry erase markers. A frame signs can be set up outside twenty-four hours a day to let customers know about your products and services. These wholesale frames often come with wheels for maximum portability. Simply carry or roll these outdoor sidewalk signs into place! Our company sells a wide variety of pavement signs on our website. With such a large variety, you will find the advertising equipment that works best for your company! Check out our best sellers now!
What types of sandwich boards are available for purchase?
Poster Signs: These sidewalk signs display standard printed posters. Many options have snap sides for easy image changes and have a PVC lens over the displays to protect from fading when placed outdoors. The aluminum edges come in black or silver in a variety of sizes. While the aluminum edges of these advertising boards are weather resistant, use caution during severe weather conditions.
Fillable Base Signs: Thanks to the sturdy plastic base that can be filled up with water or sand, these outdoor advertising signs will bend with the wind rather than fall over or break. Units are dual-sided and can be used to advertise in two directions at once. Most styles have wheels for easy transportation. Not all units have protective plastic lenses over the poster displays so be sure to bring them inside during rain or snow.
Letter Boards: These signs come in a variety of styles such as ones with a swinger base, water base or standard base. These sidewalk displays each come with a double-sided face. The letters are included in the purchase and allow you to create custom messages.
Polyethylene Signs: These sidewalk signage displays come with a spring base, A-frame, or slide-in panel models. They are constructed of a virtually indestructible plastic and will not rust, splinter, crack, or peel. That also means that these advertising signs are a bit better in less than ideal weather conditions out on the pavement! Some outdoor signs come with inserts (such as Coroplast or Sintra) that can be easily customized at a print shop with your personalized advertisements. There are also options that allow you to customize the board with wet-erase markers. The hinged-sides fold flat and most models have a built-in handle for easy transportation.
Frames and Bases: These are basic frames for your real estate signs, as well as H-style stands that are often seen on political placards, and aluminum clamp bases that support posters printed on stronger material while taking up a small amount of floor space.
Marker Boards: These usually consist of wet-erase marker surfaces in black or white. We also have conventional chalkboards for sale. Some models are more weatherproof and water resistant than others. These write-on displays are great for places that need to constantly update their messages to reflect their events and specials.
Which stores use these advertising accessories?
Clothing boutiques and other upscale fashion stores use them to advertise sales or the latest designers.
Restaurants and other eateries could use these signs to let passersby know about daily specials or what desserts are being featured on the menu that day.
Bars could use these displays to inform about upcoming band performances and drink specials.
Hair salons could set this advertising equipment up outside their door to highlight their newest services to incoming customers.
A souvenir shop on a boardwalk could use these sidewalk displays to advertise specially made local products. Fillable bases ensure the signage supply is great for street advertising. While it is best to bring these sidewalk signage units in overnight, the signage supply withstands some winds and weather.
If you've got a bit of a space in front of your store, then you have a use for these sandwich signs. They're designed to be sturdy, portable, long lasting, and highly visible to people walking by. These portable signs have countless uses that promote your business and services!